Kansai University IIGE: Announcing the "21st Century Skills" Program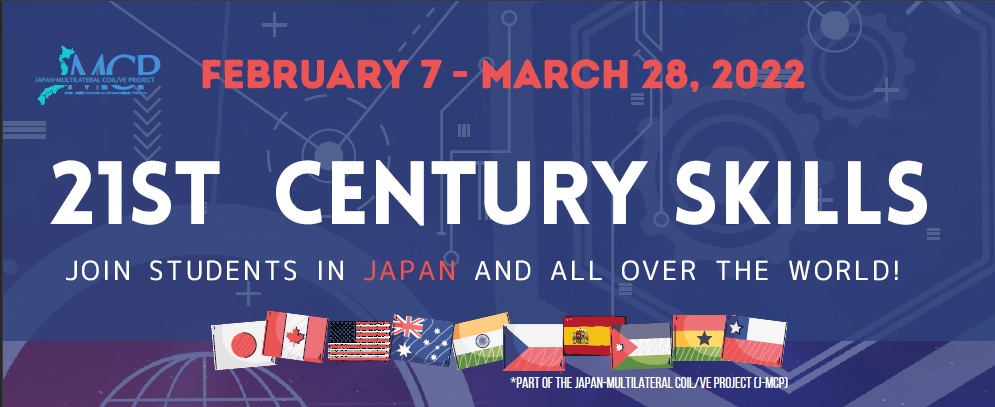 Kansai University IIGE is pleased to announce the inaugural module of the Japan-Multilateral COIL/VE Project "21st Century Skills," for your students to take part from February 7th – March 28th, 2022.
*The call for applications is now open, with a deadline of January 14, 2022 12:00 pm (JST).
For complete details, please carefully review the attached flyer and CFP.
*Actual program dates will vary according to the group to which your institution is assigned. For more information see the attached CFP.
PROGRAM DETAILS
PROGRAM DATES
Pre-Program Workshop: February 11 – 17, 2022(JST)*On-demand
Main Program: February 18 – March 22, 2022(JST)
*Lectures on Tuesdays and, Fridays 10:00 am – 11:30 am (JST)
Post-Program Workshop: March 23 – 28, 2022(JST)*On-demand
*Please check the time difference between JST and your location.
APPLICATION PROCEDURES (DEADLINE IN JANUARY 14, 12:00 PM JST)
Upload the completed application form (attached to this email) to the folder linked below with the following title, inserting the date and your institution's information in the appropriate fields
(ApplicationJMCP_Institution Name_Country_Date).
*Please lock the application form and notify us of the password via email (ku-coil@ml.kandai.jp) upon submitting the form.