About CMU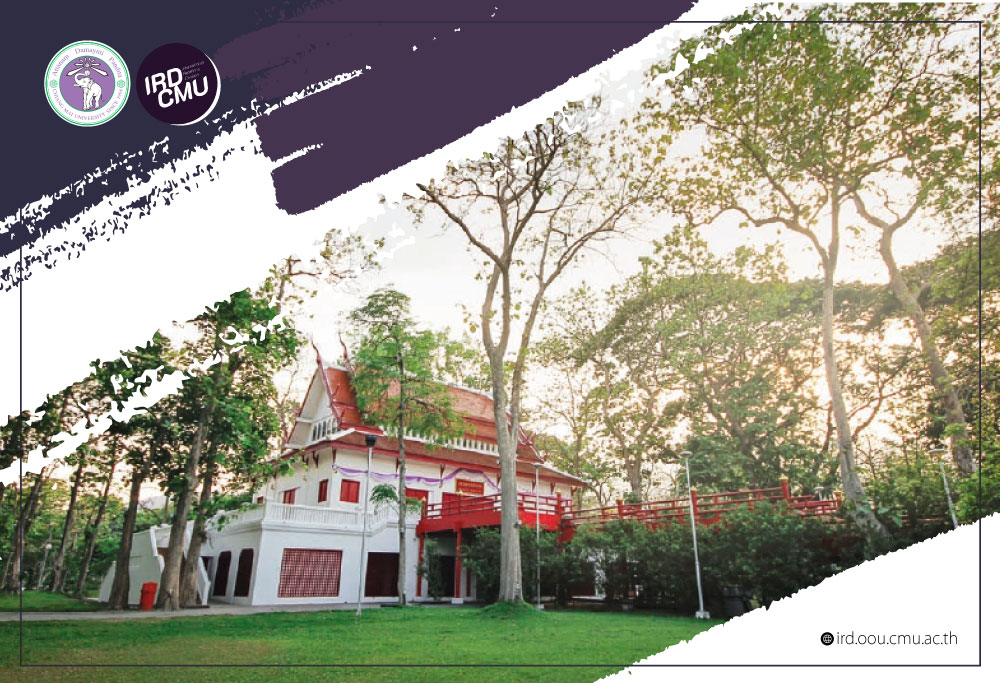 Chiang Mai University was founded in 1958 and was the first government university to be established outside of Bangkok. Chiang Mai University is situated in the land of Lanna, a previous independent Kingdom dating back more than 700 years and lies at the foot of Doi Suthep Mountain. Today Chiang Mai University consists of 21 faculties, 4 colleges and 3 institutes. (https://www.cmu.ac.th/th/faculty/aboutus)
Landmarks in CMU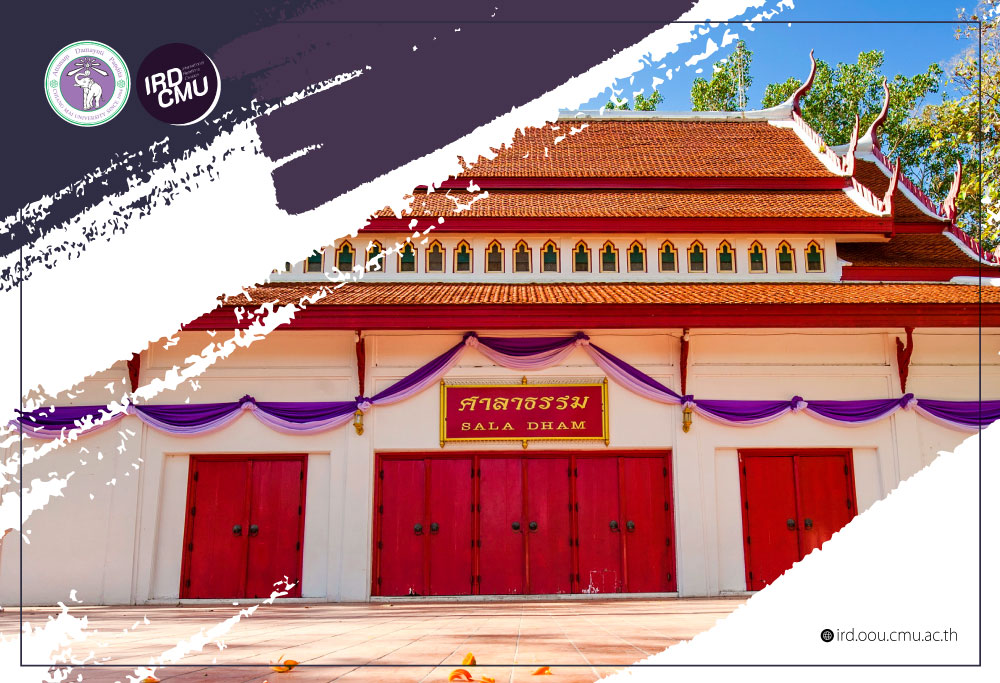 Originally, Sala Dham was used for the Wai Kru ceremony, a ceremony where students pay respect to their teachers. This was then held in the Ang Kaew Pavilion upon its completion and Sala Dham became a reception for His Majesty and the royal family during CMU's commencement ceremony. After the university's auditorium was completed the commencement and Wai Kru ceremony was moved to the main auditorium and Sala Dham is now used for the university's important occasions, including congratulatory ceremonies and holding receptions for the university's honorable guests.
Chiang Mai University's Shrine was completed on July 21, 1964 and is located in front of Sala Tham.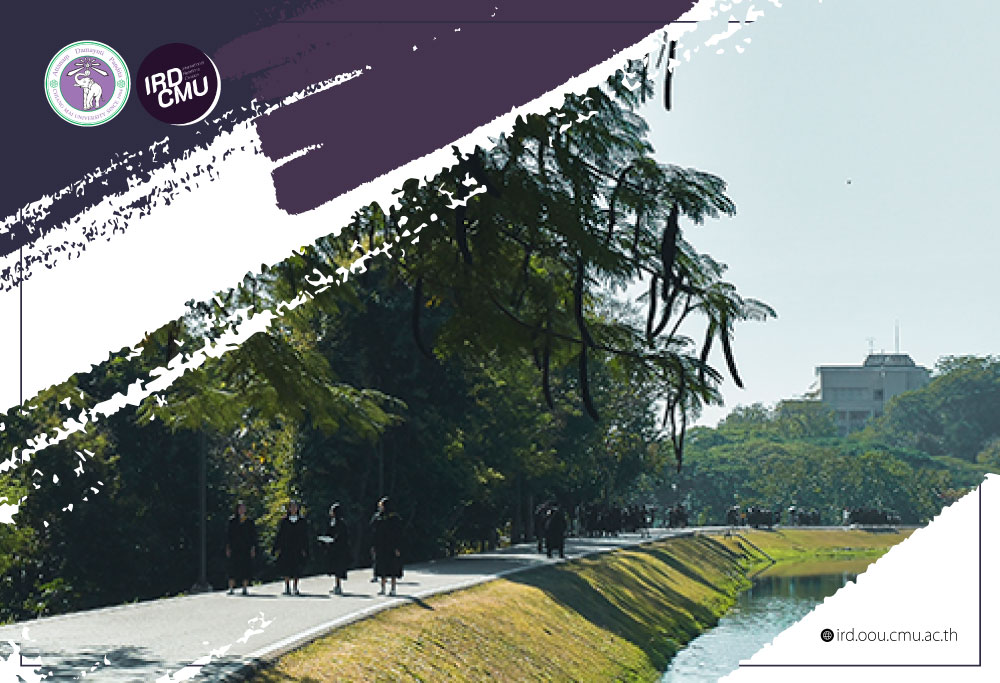 Located on campus, Ang Keaw water reservoir is named after the Huay Kaew waterfall that is nearby. The reservoir is in a very scenic setting and offers a good view of the Wat (Temple) on top of Doi Suthep Mountain. In addition to being used to store water for usage within Chiang Mai University, it is also a resting place for students, staff and locals alike and is a popular place to run or walk in the cooler times of the day.
Event on Campus
CMU Trekking
Every year around September, Chiang Mai University organizes the CMU trek to Doi Suthep Mountain temple, starting from the university's main entrance. The trek is more than 14 kilometers long and freshmen, students, and alumni come together in unity and re-kindle the university spirit as they walk up the mountain together.
For this occasion each faculty prepares ornamental objects that are used to pay respect to the Buddha image in the temple. Most of the trekkers will wear the Thai traditional costume or the faculty shirt or t- shirt as a reflection of unity. This trek is also one of the welcoming ceremonies for the 1st year students.
Sports Day and Spirit Night
Around October each year a Sports Day and Spirit Night is held. One of the highlights of this event is the cheer leader's competition, where students show their creativity with their grand stand seating decorations, the cheer leader's choreography and the chants used to cheer the athletes on.
CMU Book Fair
CMU Book fair is regularly hosted in February every year. A variety of books are on sale at a reasonable price, from academic to fantasy novels and popular authors are invited to give special interviews. The fair is not only for the bookworms but it is also popular for food buffs as there is a large number of food booths at the fair.
Wai Kru Ceremony
Wai Kru Ceremony is on the1st month of the 1st semester. The ceremony is for students to pay respect to their lecturers and is the day that the freshmen will give their vows to be good students and to be motivated in successfully advancing their education. At this ceremony the freshmen will be wearing their special occasion uniforms, women wear purple skirts while men wear purple neckties and white trousers. The students carry into the ceremony an elaborate display of flowers that is designed by each faculty and is used by the students to show their respect to the representative lecturers.
Facilities in CMU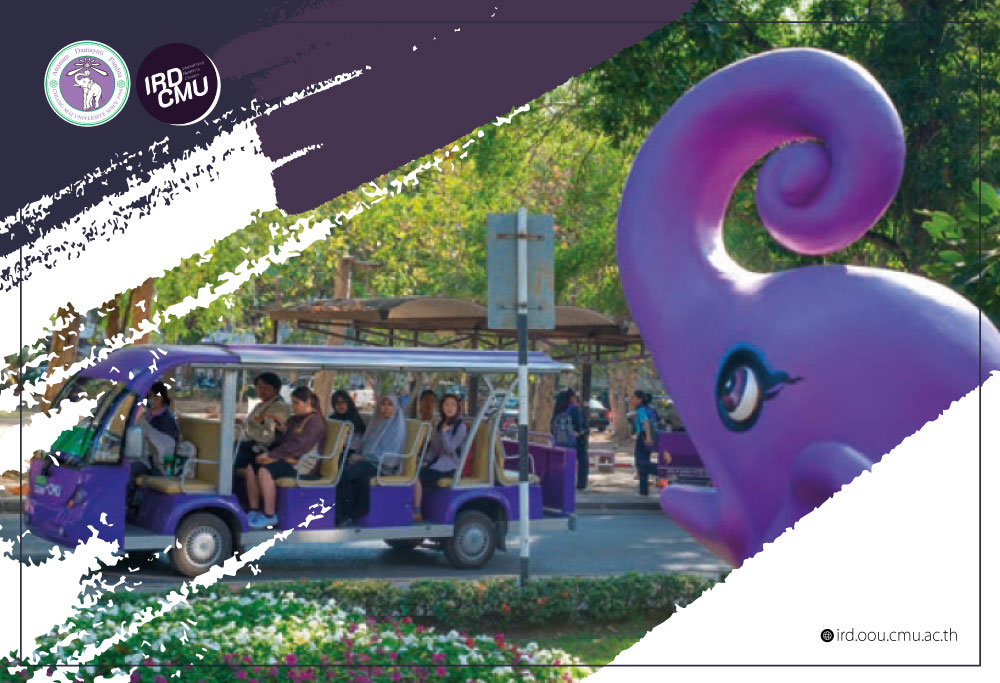 Transportation
Free shuttle bus
Chiang Mai University provides a free shuttle service for staff and students to travel within the main campus (Suan Sak Campus) and to the other 2 campuses, Suan Dok Campus and Mae Hia Campus.
Service hours
Main Campus: Everyday 7.00 am. – 10.00 pm.
Suan Dok Campus: Everyday 7.00 am. – 09.00 pm. (Every 15 minutes)
Mae Hia Campus: Everyday 7.00 am. – 08.30 pm. (Every 30 minutes)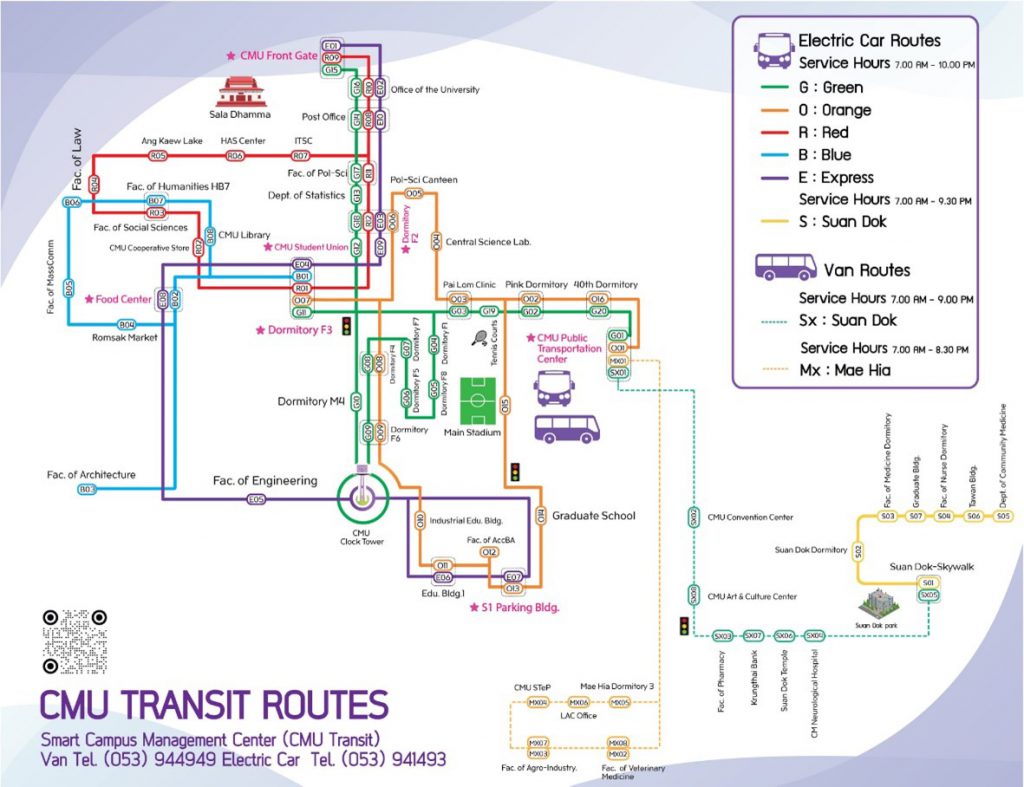 Canteens
STUDENT ACTIVITY BUILDING: AOR MOR CHORDORMITORY'S CANTEEN
FACULTIES' CANTEEN
OFFICE OF THE UNIVERSITY'S CANTEEN
FAI-HIN MARKET
CMU Clubs
Chiang Mai University provides numerous clubs to canter for a variety of student interests. Some of the clubs available include:
Academic
Student affair and International relations
Religion and Culture
Sports
Library & Working space
1. Main Library
Opening Hours:

Regular:

Mon. – Fri. 8:00 am – 9:00 pm
Sat – Sun 10:00 – 6:00 pm

Semester Break:

Mon – Fri 8:30 am – 4:30 pm
Saturday, Sunday, and Public Holidays: Closed

2. ITSC Corner
Website https://itsc.cmu.ac.th/
ITSC Corner is an information center and learning resource for students and is responsible for the 1,090 computers that are available on campus for students, with each computer connected to the internet. The main center is located in front of the library, and a total of 45 smaller centers are scattered throughout the faculties and student dormitories, and supports the University's goal in being a digital university and to facilitate student self-learning.
Open from 08.30 – 23.00 hrs. (Mon-Fri) and 8.30 – 18.00 hrs. (Sat-Sun)
3. CMU Learning Space
CMU learning space is for students and includes a study area, a conference table, a corner to relax and a space to sit and work privately. The design focuses on simplicity and comfort and in addition to students finding inspiration in new places, it also gives them an opportunity to meet and make new friends.
Open from 08.30 – 24.00 hrs. (Mon-Fri) and 8.30 – 18.00 hrs. (Sat-Sun)
Athletic and Recreational Facilities
Most facilities are free for students or charge a nominal fee, please show your student ID card at the door.
Swimming Pool

Fee: 50 THB / person
Opening Hours:
Wednesday – Sunday : 10.00 – 12.00 and 13.30 – 17.45
Monday and Tuesday : Closed

Main Stadium : Free
CMU Gymnasium : Free
Archery field : Free
Rugby football field: Free
Volleyball court: Free
Tennis court: Free
Basketball court: Free
Table tennis court: Free
Badminton court: Free

Fee 50 THB / person
Online booking is required
11. Post office
12. Banking / ATM
Health Center
Clinic 108 and Maharaj Nakorn Chiang Mai Hospital
110 Intawaroros Road, Si Phum, Muang, Chiang Mai 50200 Thailand
Tel: +66-5393-0300
E-mail: hospital@med.cmu.ac.th
Homepage: https://web.med.cmu.ac.th/index.php/th/med-suandok
(Reception desk located at the Royal Golden Jubilee Building.)
2. On Campus Pharmacies
If you are facing difficulties or know a friend in distress, who can help? There are many departments in our university to help you and listen to anything that makes you feel uncomfortable.
CMU Mind Project
Facebook: https://www.facebook.com/CMUMind/
Tel. 097 924 8000
Opening Hours:
Mon. – Fri. 8:30 am – 4:30 pm
The "Second Home" Counselling Service

Facebook: https://www.facebook.com/CMUCounselingServices

Located at 1st floor HB1 building, Faculty of Humanities
Tel. 083 585 6046
Opening Hours:

Mon. – Fri. 8:30 am – 4:30 pm
Useful Phone Application
CMU Mobile
What's on the app:
CMU News
CMU Transit : Track shuttle bus location in Real time
CMU Place : Search for dormitories, shops, ATMs, buildings, etc. on campus
Reg CMU : Registration office services brought to your fingertips.
CMU health passport : Closely track student health.
CMU Air Quality
Directory Information
iOS: https://apps.apple.com/th/app/cmu-mobile/id946339651?l=th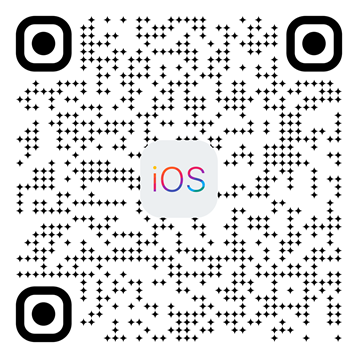 Android: https://play.google.com/store/apps/details?id=th.ac.cmu.mobile.portal&hl=en_US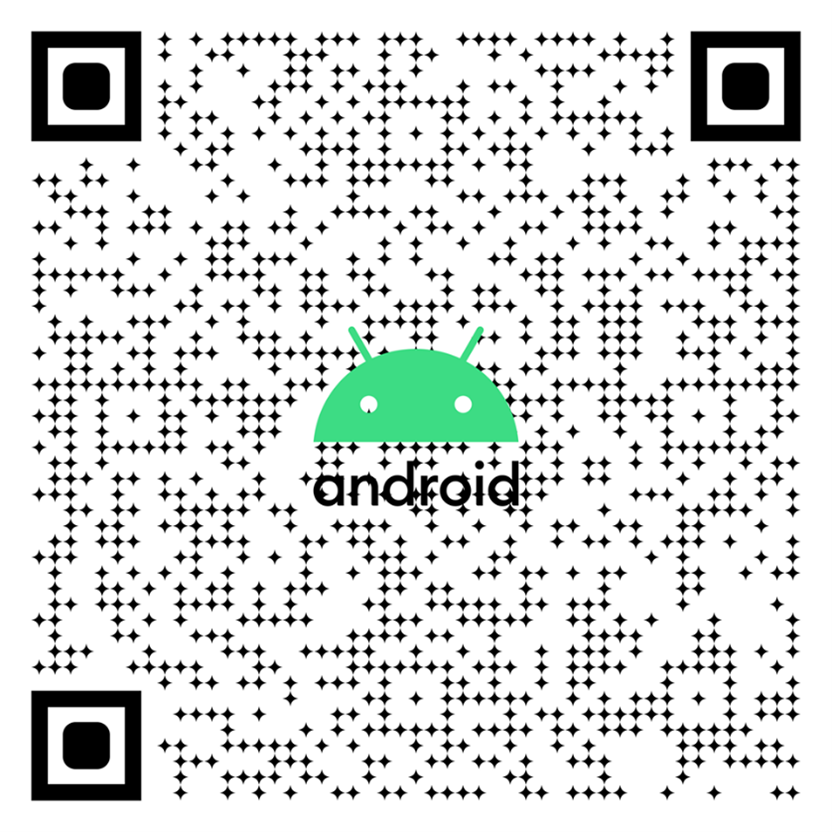 Emergency Contact
| | |
| --- | --- |
| Tourist Police | 1155 |
| Police (General Emergency Call) | 191 |
| Ambulance and Rescue | 1554 |
| Fire | 199 |
| National Disaster Warning Centre | 1860 |
| Medical Emergency Call | 1669 |
Social Media
Line: @CMUTHAILAND
Facebook: CMUOFFCIAL
Twitter: CMUOFFICIAL_TW
Instagram: CMUOFFICIAL_IG