CMU ranked 70th in THE Impact Rankings 2022 and No 2 in Thailand for sustainability
Corporate Communication and Alumni Relations Center (CCARC)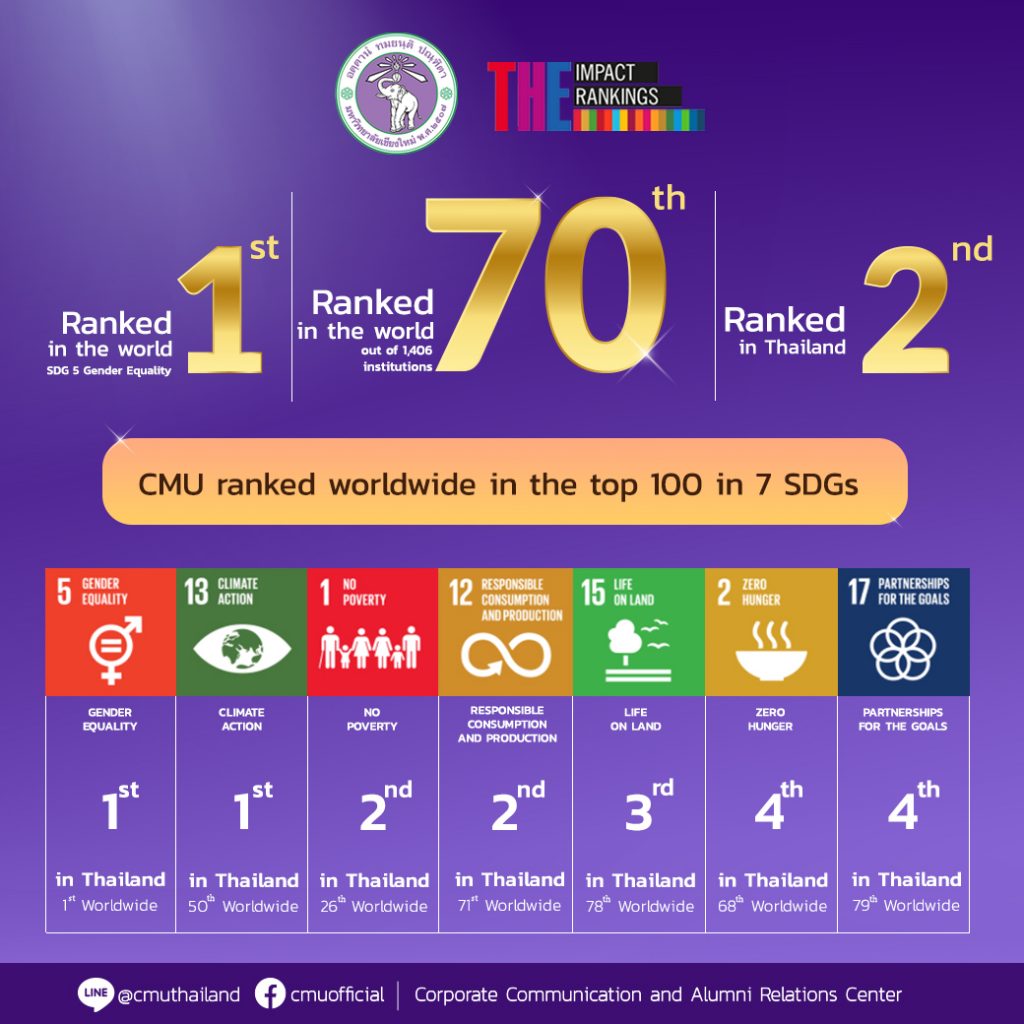 On April 28, 2022, the Times Higher Education Impact Rankings 2022 were announced. The rankings measure universities' social impacts based on the UN Sustainable Development Goals (SDGs).
This year, out of 1,406 institutions worldwide, CMU was ranked 70th in the world, the second-highest in Thailand, with a total score of 90.4 out of 100. It is an improvement from last year's 101 – 200 range. This achievement proves that CMU is a leading university committed to social responsibility and sustainable development.
This year's notable performance is placing first in the world for SDG 5: Gender Equality, out of 938 participating universities, which is a remarkable leap from last year's 54th worldwide and first nationally. Also, for SDG 13: Climate Action, CMU is ranked No 1 in Thailand and 50th globally.
It was also ranked in the Top 100 in five other SDGs, which are
SDG1: No Poverty – 26th worldwide, 2nd in Thailand
SDG2: Zero Hunger – 68th worldwide, 4th in Thailand
SDG12: Responsible Consumption and Production – 71st worldwide, 2nd in Thailand
SDG15: Life on Land – 78th worldwide, 3rd in Thailand
SDG17: Partnership for the Goals – 79th worldwide, 4th in Thailand

As for other dimensions of sustainable development, CMU made the global rankings in eight SDGs – placing in the 101 – 200 range globally for SDG 3, SDG 4, SDG 7, SDG 8, SDG 9 and SDG 11, and the 201 – 300 for SDG 10 and SDG 16.  
The website https://sdgs.cmu.ac.th/has been created as a central platform for CMU Faculties and sectors to showcase how they work towards the 17 SDGs to the global community. The CMU Educational Development Plan, Phase 12 focuses on achieving sustainable development through the SDGs by supporting new approaches to education and integrating technology into the university's operations, making CMU an innovative model for the community and a promoter of sustainable development.

The fact that CMU has made remarkable improvements each year shows the commitment from all sectors to make the university a place that drives community-oriented innovation and sustainable development through teaching, research, social services and other activities that promote SDGs achievement.
CMU would like to thank administrators from all sectors, staff and students for their efforts in making CMU a university of sustainability.
For more information about the rankings, visit https://www.timeshighereducation.com/rankings/impact/2022/overall.